Good Morning All!
On this rainy chilly day I am dreaming of the huge Spring blooms that will (soon!?) appear on the rhododendron in our front yard. This kind of weather (while hibernating inside) is perfect for planning Summer projects. I am currently working on one for hubby's office building. The building is a gorg mid to late 1800s brick grand dame and I am in love with the exterior, particularly the large plantation windows. We have been trying to do updates each year as time and budget allow, and last year's project was the porch with new railings. This year everything will get painted and landscaped once the handicap ramp is added on.
The major checklist for this project includes lovely lanterns for exterior lighting, and new flooring in the foyer. I have been dreaming of a black and white tiled floor for the entry which feels very brownstone-esque to me. The foyer has an antique radiator and stairs leading up to the second floor, so a symmetrical tile design is out. Here is my planning worksheet so far with sources noted below.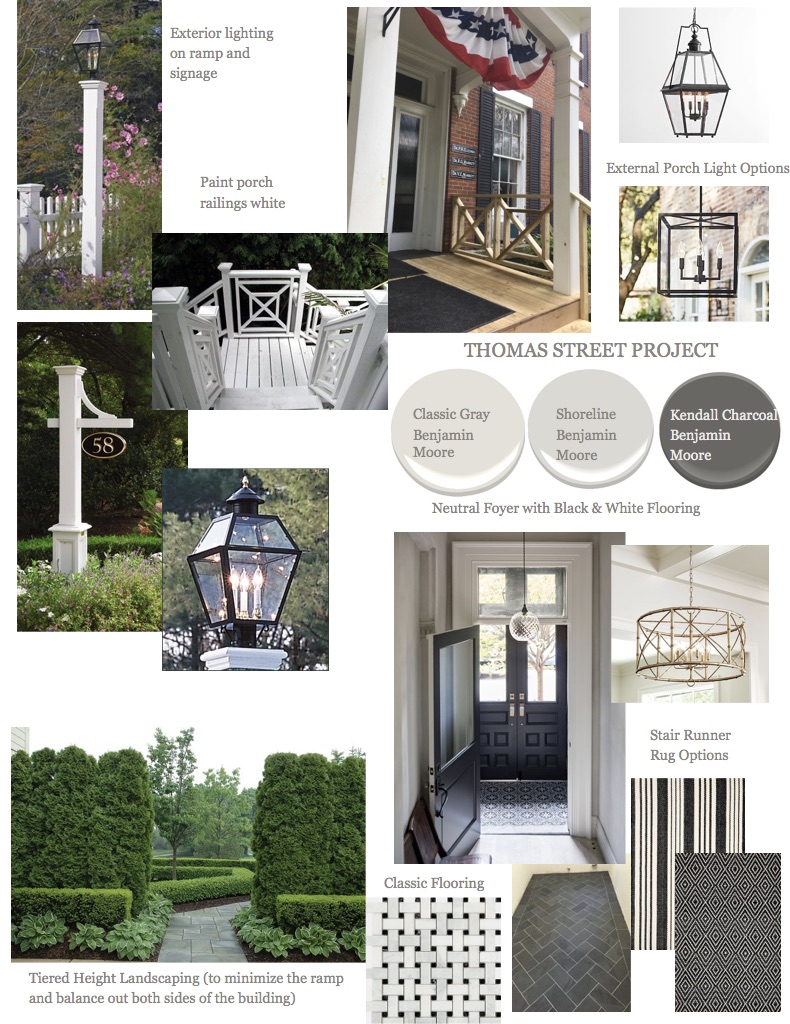 SOURCES: Exterior Porch Lighting Option Lantern 1 and 2| Exterior Post Lantern|Sign Option| Indoor Light Fixture| Classic Flooring Option 1 and 2| Stair Runner Option 1 and 2
Spring is sloooooow in arriving this year, so I am trying to make as many project plans ahead so when it does arrive we are ready to jump in! ANNNNNND speaking of upcoming AWESOME projects, the One Room Challenge Spring 2018 kicked off today, with guest participants posting tomorrow! I am soooo excited to be participating in my FOURTH challenge, and tomorrow I will be unveiling the project I will be tackling.
Happy Hump Day!
xo
Kelly