Good Morning All! AAAAK, it's mud season here and I cannot keep up! I know I know….before you can have a beautiful Spring, you have to literally go through the mud… but with two dogs and young kiddos I am pulling my hair out! SO, in an effort to save my sanity, I took a look back at the reno photos of our mudroom.
Our little mudroom is definitely not big enough to accommodate a crowd all arriving at once, but it is helpful in corralling the mess as close to the back door as possible! When we renovated there was no option to make it bigger, so we kept the same layout, utilizing the existing storage and bench that was already there. I don't think we have ever actually sat on the bench in the seven years we have lived here, but it does come in handy to set groceries and backpacks on!
I remember that we began this project in late September and didn't get it finished until right before Thanksgiving. We use it as the main entrance of the house, so it was tricky to keep walking through a construction zone. We started by getting all the built-ins painted and worked around the room from there. Like many of my projects I started with gusto, even painting inside the built-in cubbies. However, I can tell you that the insides of the doors still need a second coat of navy because the enthusiasm quickly waned as my husband and I stayed up nights while the kids were sleeping to get it all knocked out.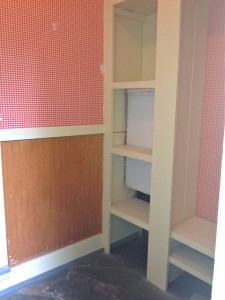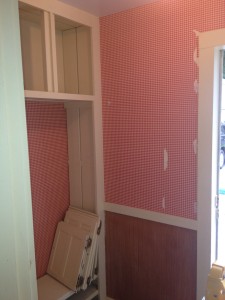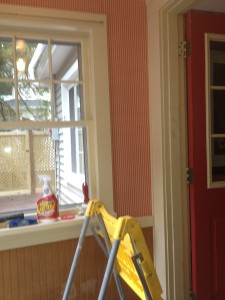 The flagstone floor would allow moisture in and there was little to no insulation before we started. We added some additional insulation where we could while we have the walls were ripped apart, and then had radiant heating installed under the new floor tile. Best.Investment.Ever. It helps to keep the small room toasty in the winter and we have not noticed an increase in our heating bills.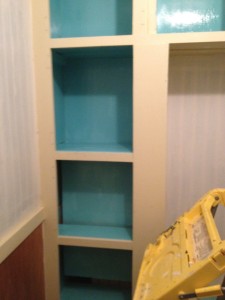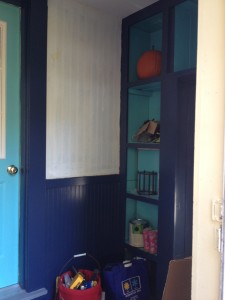 The bright aqua paint was a color match to a jacket my daughter had. After searching and buying way too many samples, I took the jacket into Lowes for a direct match and love the vibrant result. The navy paint is Admiralty by Olympic- a perfect match to the wallpaper and it hides the dirt well!
The wallpaper was a tough find at the time, and turned out to be really hard to hang! My mom is an expert wallpaper-er and we were both spouting expletives a few minutes in. The wallpaper is a large scale trellis pattern from York which can be found here. I would still recommend it because it gave me the look I was hoping for without busting the budget, but just give yourself extra time to get it up. Or better yet, hire it out! The paper is very thin and tended to shift and rip easily so go slow and definitely recruit friends to help!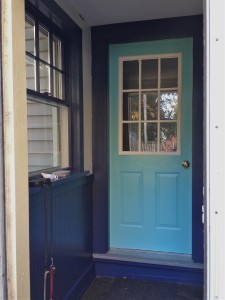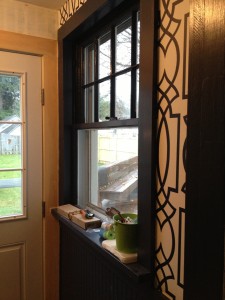 Here is the final product. I still have ceiling trim to add FIVE years after the fact, and am still looking for the PERFECT blind that can stand up to a sunny mudroom window, but these things take time, right? I love the overall look and it makes me happy coming home everyday, so all in all, mission accomplished!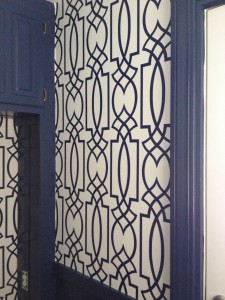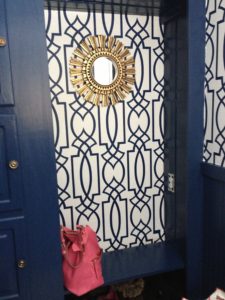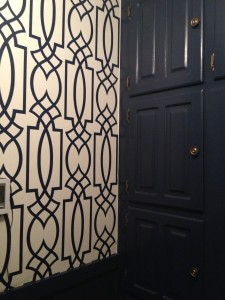 Have a wonderful day all! We are getting closer to Spring!
Best,
Kelly