Hi All! This post was originally started two weeks ago and titled Monday Musings, but here we are midweek, a fortnight later and I am just now sitting down to sum up my thoughts.  I have been MIA  finishing up some client projects, getting over a cold, enjoying a family wedding weekend, and racing toward the end of the school year with the kids.  How are we mid-June already!?
Lately I have been thinking a lot about the psychology of design and space planning (warning: wordy post ahead).  I have witnessed how a beautiful, functional space can literally change a client's perspective of their home or office, but getting to that point in the road is not without its challenges.  Enter the dandelion effect.  This is what I call the design issue(s) when one project cannot get done because it hinges on another… and when you tackle one issue, another pops up to slow you down.  And then as a result, frustration sets in and nothing.moves.forward.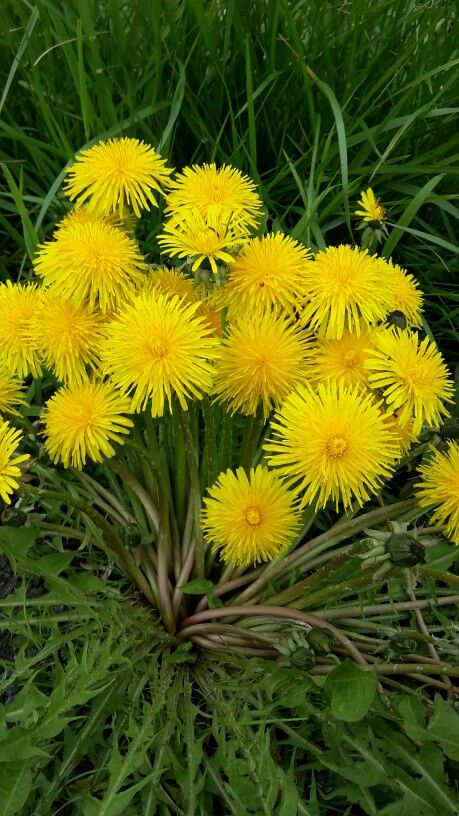 There are several things that have not been addressed in the nine years I have lived in my house due to the dandelion effect.  A small, yet apt example of my own current ongoing dandelion challenge has been attempting to create an area with great adequate lighting where I can apply my make-up, do my hair etc.- a space out of the way of other family members. Doesn't sound particularly challenging right? Let's review how we got here.
When my kids were born I began implementing the "get ready out of a bag" technique because I was home with them, and at that point as a Mom you are in whatever room they are in, so I would just drag my makeup etc. with me to be applied wherever I found myself (let's be honest it was more like chapstick, a hair tie and an extra shirt for when I was spit-up on, but it was a "ready bag" nevertheless).  Now as the kids get older, due to the sheer amount of time I spend in the car, this concept of the ever ready bag enables me to address self care rituals at stop lights and while waiting to pick up/drop off. Classy.  So in an effort to stop this nonsense I have been wanting to create an area for myself to get ready in the morning. Easy enough.  Except for the damn dandelion effect that has enabled the "get ready out of a bag" insanity to go on for nine years.
Here is how it works.  I have wanted to delineate this prep area for myself for years, except there is one bathroom upstairs where everyone needs to get ready.  We are putting in a Master Bath within a years time (for the sanity of our entire family), but until then I am challenging myself to find another solution.  My first thought was to carve out a spot for a vanity table and chair in my bedroom, but then quickly realized the outlets I would need for the blow dryer are in another area of the room so I would need to relocate them…totally reasonable (insert sarcasm here) because they would all be temporary and torn out when the Master Bath goes in.  Then I started using the downstairs bathroom because hey, all my stuff was in a bag anyway, but the small vanity top did not afford me the space I was looking for to layout my new Sephora haul sooooo….. I could just redo the downstairs bath sink area while awaiting the new Master Bath install. Another perfectly reasonable solution.   And round and round it goes…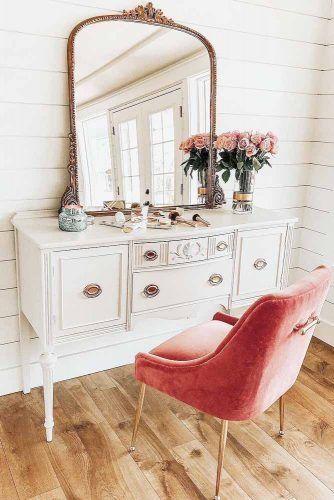 So this is the point in which I am going to get out of the weeds (ha ha) and implement the "progress over perfect" concept that is all the rage.  As a Type A this is a challenging concept to accept, but I am tired of schlepping that bag about, as now it has become a symbol of a lack of effort to carve out space for myself  in my own home (Sidebar: Naturally, I did try to make the bag fancier, more organized etc. in an attempt to quell my frustration, but it did not solve the problem per se).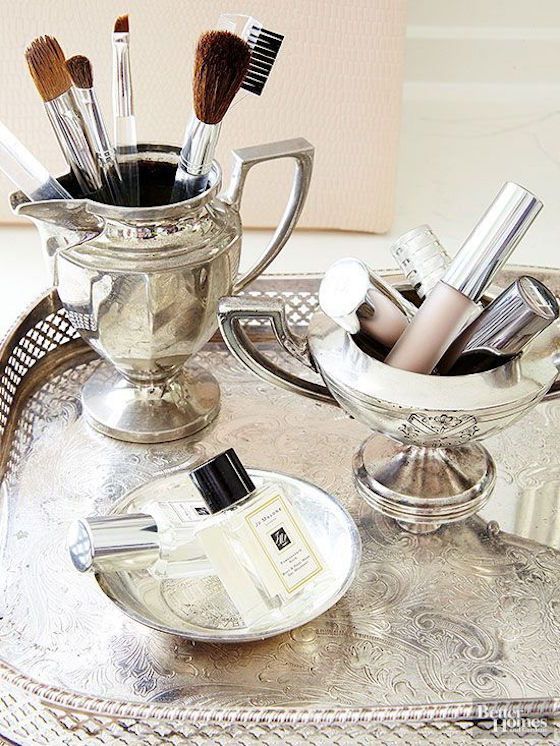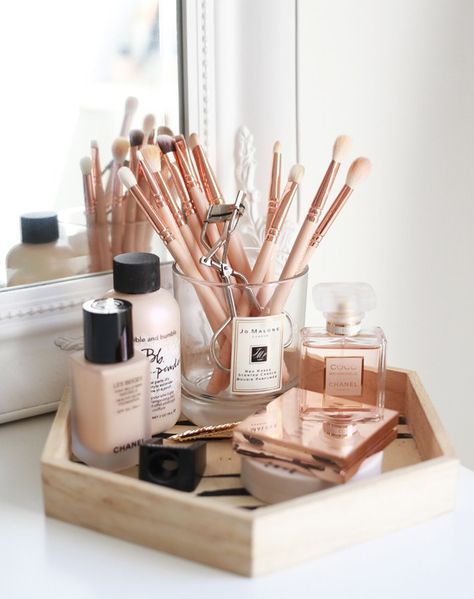 So here is the plan (with rules of course)… accountability photos to follow next week: 1) I will implement an organized space for the morning routine of hair/makeup etc. (most likely with a damn extension cord to solve the outlet problem…progress, not perfect); 2) I will use existing furniture as I have been cleaning out the attic for days and cannot bring myself to buy anything new when I have a myriad of options in storage; and 3) It will be functional, organized and pretty and may even double as jewelry storage so I actually know what I have- imagine!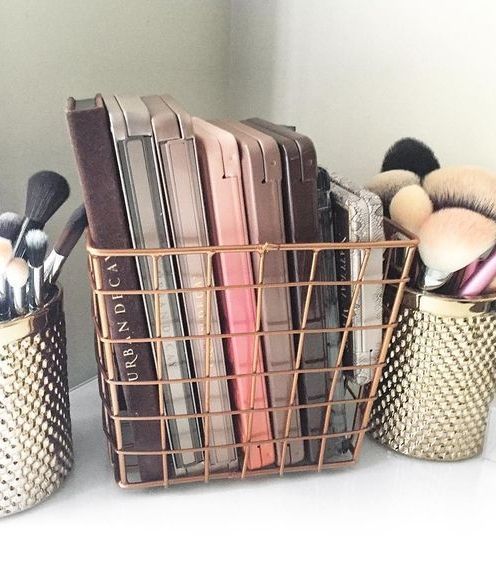 Now to come full circle to the psychology of design I mentioned above.  Will implementing this area for myself lead to other things…greater self care- ooooh maybe I'll even get to the gym more! LOL. Listen, I have realistic expectations, but I am wondering if just eliminating the "get ready bag" will make me feel more invested in myself.  Now then, taking that to the next level, perhaps updating annoyances in my kitchen will lead to healthier eating…and will creating an at home office space make me feel like I accomplished more when I use it, not to mention better organized? I am not sure, but I cannot wait to find out:). Perhaps in doing these things my dandelion effect with become a dandelion affect…in a positive way.
Ok, so I challenge you to identify something that has been bugging you in your own home, but due to the dandelion effect you have not taken on.  Make a reasonable plan for yourself and take steps forward toward your goal.  Progress over perfect my friends.
Good Luck!
Best,
Kelly