Happy Sunday All! I hope you had a lovely weekend packed with summer memories and projects galore.  At our house,  the notices and schedules for upcoming back to school events have been flooding in, and while I love the fall season, I am not quite ready to let summer go.  I have been reluctant to embrace the quicker pace that comes with school activities, sports schedules, and completing client projects before the snow flies. So…. in a coordinated effort to save myself a lot of angst, I have spent an inordinate (though apparently necessary) amount of time "organizing" myself.  I am a sucker for school supplies so I picked up some fun printed file folders, notepads and various other organizational items to get myself ready for the onslaught of fourth quarter projects #letsdothis!
In planning ahead, and as part of  "Operation Cleanout" that began earlier this year, I went through all my seasonal decor big and small and only kept the things I loved.  In addition I labeled them so gasp, I should will be able to find what I want to use to decorate for the upcoming seasons. Stay tuned.  Nevertheless, to get me in the fall spirit, I rounded up my favorite home decor finds in each trend category below.
The Natural Textures Trend: One of the big trends for fall is bringing in warm tones with natural textures, wood and metallics. Think baskets, wooden bowls and warm metallic lanterns. I love this room as inspiration for the natural textures trend because although it is predominately white, the textured sofa, wooden stools and woven chairs create a warm and inviting ambiance.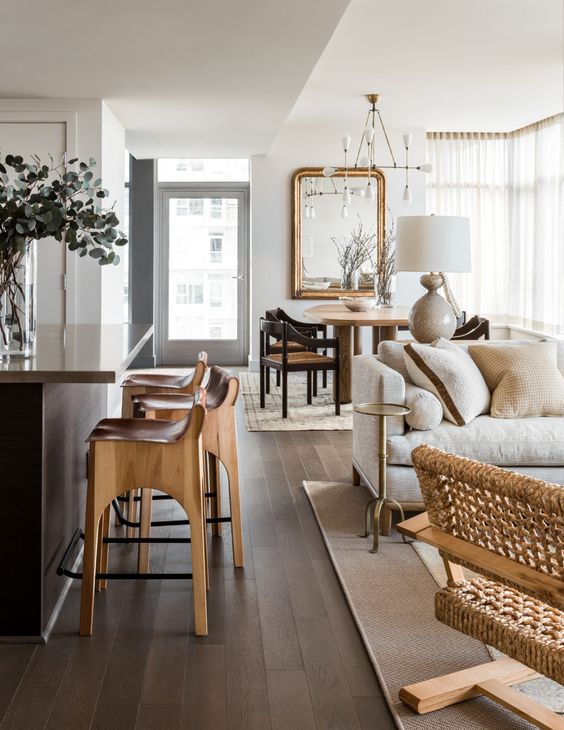 To try this look at home:
1) This beautiful bowl hits the trend trifecta with its gorgeous warm neutral color, and  copper with wood fabrication.  I can totally picture it filled with small white pumpkins paired some magnolia leaves or olive branches for a beautiful fall centerpiece. Note to self… add to cart soon!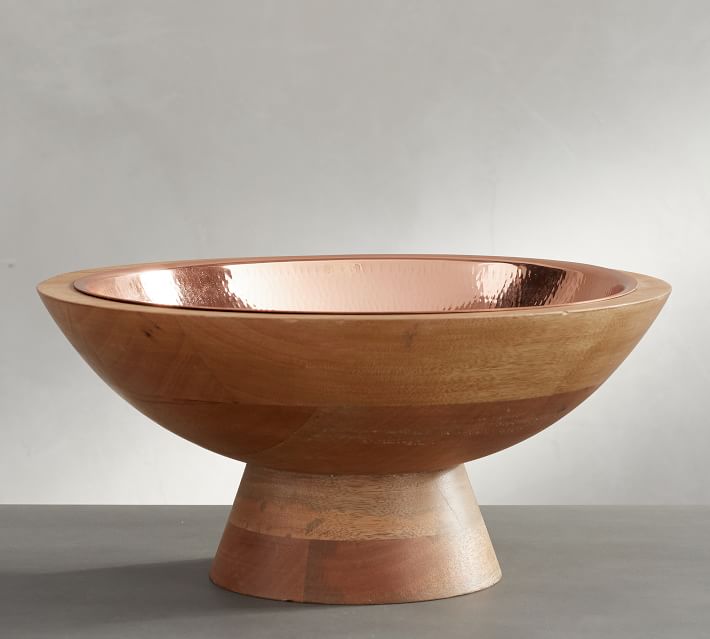 2) This decorative woven accent would look beautiful leaning on a fireplace mantel paired with a natural arrangement, or as the focal point of a tablescape mixing brass lanterns with pumpkins and gourds. With so many uses, at $24.99 it is the perfect on trend choice.
3) To bring in nature on a budget, this small cutting board can be layered with others of varying shapes and sizes to bring warmth into the kitchen.  It is 5 1/2 x 10 1/4 and a whopping $5.99. I am hoping to use these as individual serving plates for a tapas party…bring on holiday entertaining!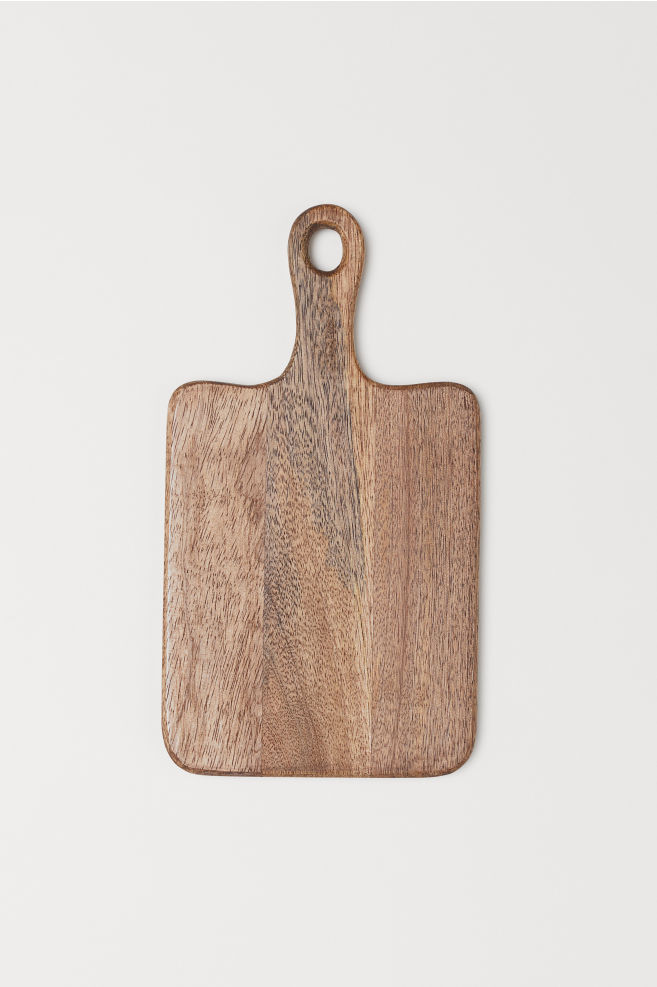 All Things Navy: While navy has never been out (especially for those of us that gravitate toward preppy) it is continuing its hot streak as a color du jour.  For fall, navy is being paired with both metallics and jewel tones alike and I am loving this look.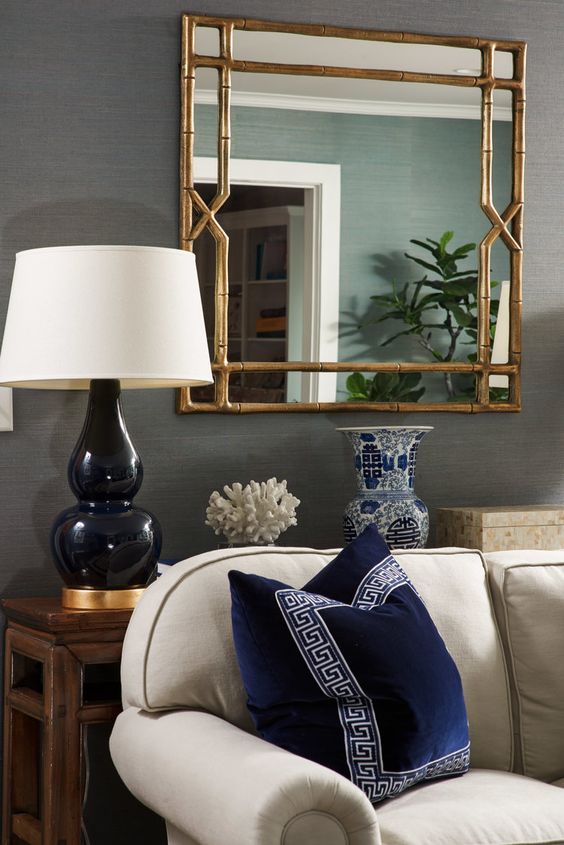 Here are some beautiful pieces to bring navy and gold into your own home:
1) This desk is slightly over $100, but would make a gorgeous statement in a foyer or office.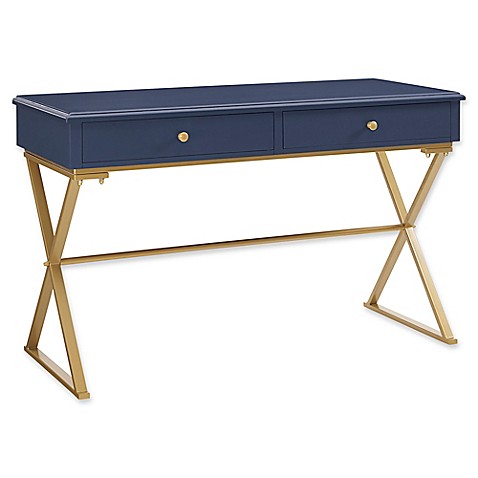 2) These lamps are also slightly over $100, but if you consider that you are getting the pair WITH shades it is a great way to implement the look on a budget.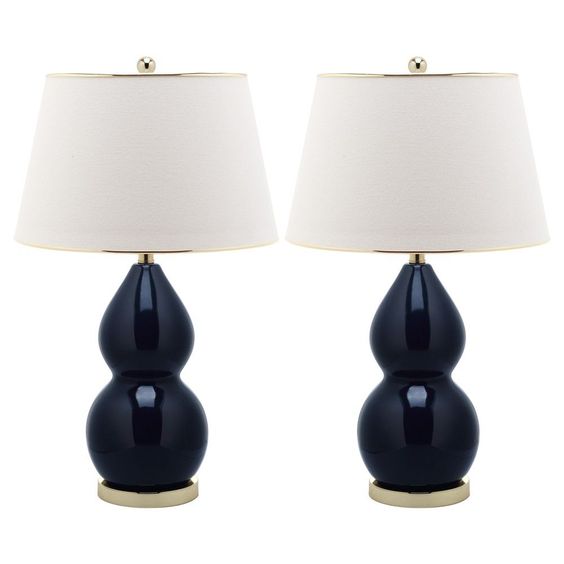 3) With its gold hardware and lacquered finish, this tray is not only on trend but also under $100.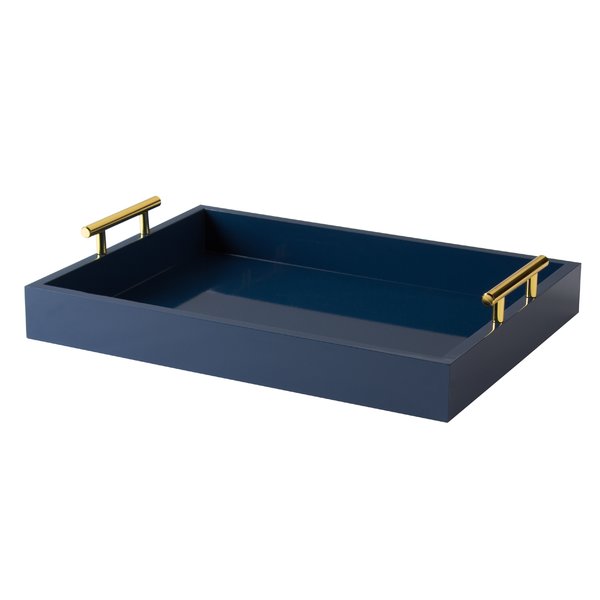 Animal Print Fashion Crossover: Animal print, and in particular leopard print, is everywhere in fashion again this fall and has transcended into home decor as that quintessential neutral..and this girl is thrilled! Now, we have definitely all witnessed this trend go very wrong, a little goes a long way, but when done correctly it is oh.so.right! I am so inspired by this front entry in which the layering of pattern makes it feel warm and welcoming.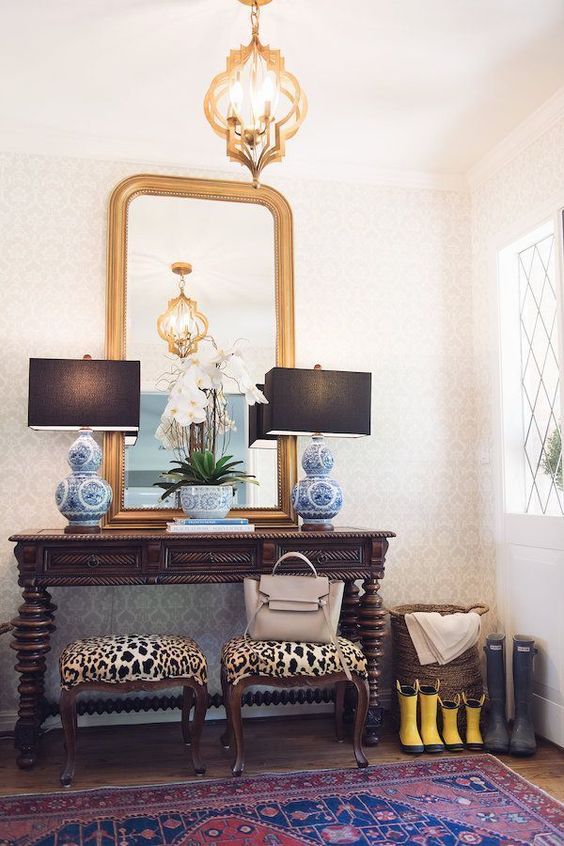 My favs to bring this trend into your own home:
1) Pick up this pillow (or better yet a pair) and add it to your sofa or bed for a pop of warmth and print.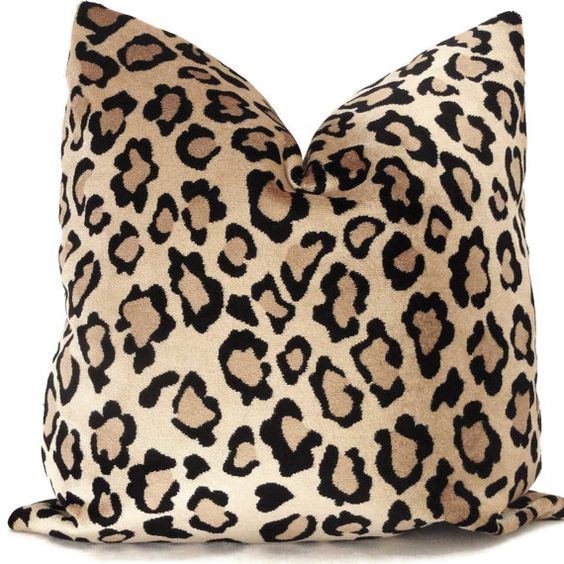 2) Another way to sneak in a little animal print is with these adorable leopard accent plates. I am considering mixing them with some Tartan plates for the Christmas holiday, but until then they would be perfect for fall entertaining with orange or red accents.
3) And while this coir mat is an interpretation of leopard print, it is the perfect accent for your fall front porch decorating.  Fall is the season in which we entertain the most at our house and this mat will be both practical and stylish to welcome friends and family.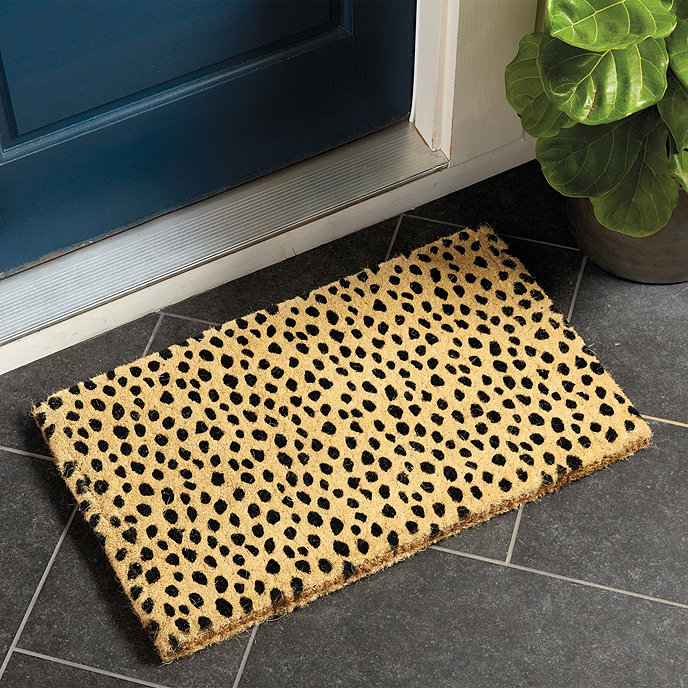 Velvet Delight: The addition of velvet is not a new trend per se, but it is showing up in a big way on pillows and furniture alike. After all, velvet = soft and warm= all the feels of fall! This living room has stuck with me since I first saw it over a year ago. That green velvet sofa is amazing against the detailed moody wall behind. Just.So.Inviting.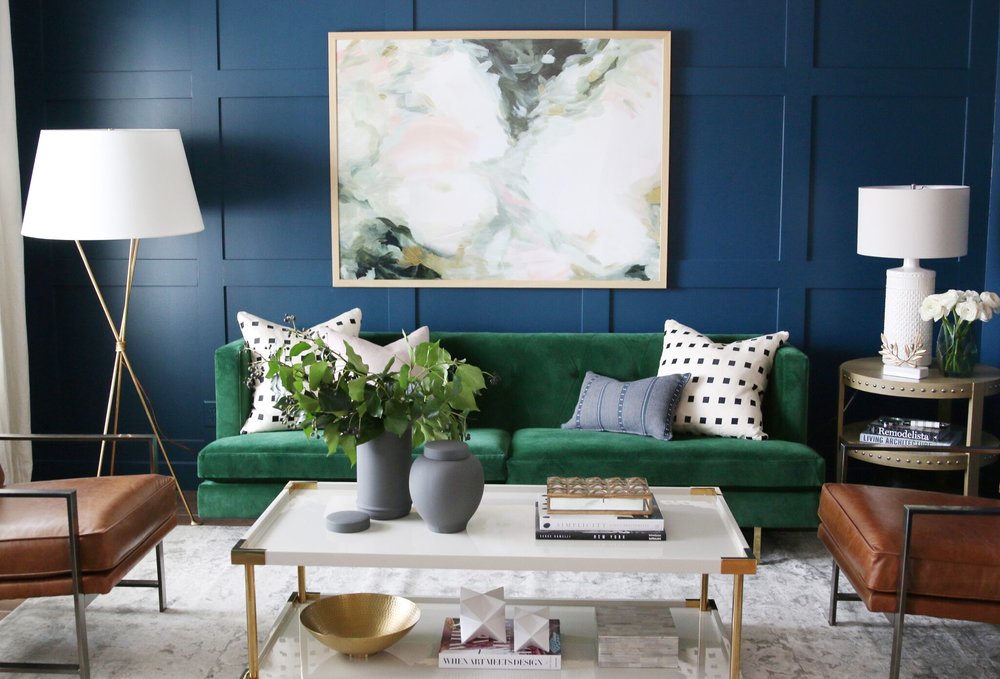 Here are a few options to introduce velvet (on a budget) into your home:
1) These washed velvet pillow covers are 20″ square and come in a large variety of warm colors making it hard to choose just one!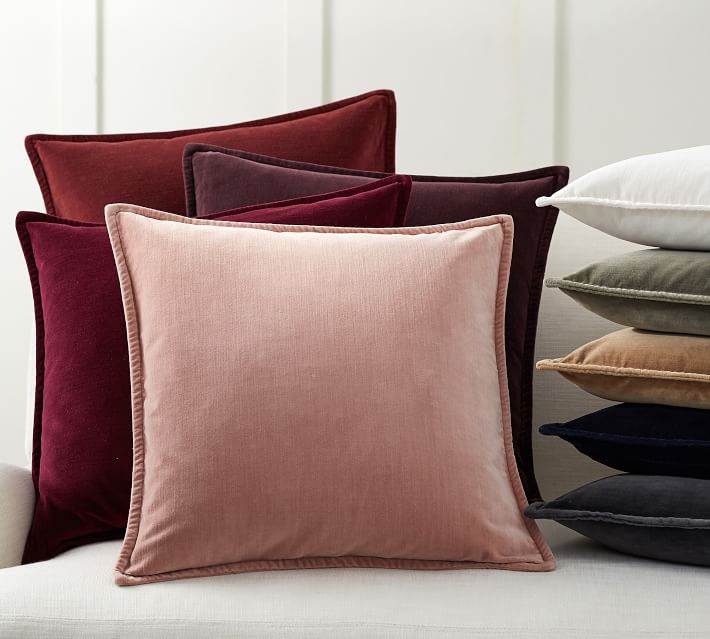 2) This inexpensive bench with tufted velvet cushion adds both style and practicality to an entryway or as seating for a vanity. (Note the extra credit styling with the metallic x base).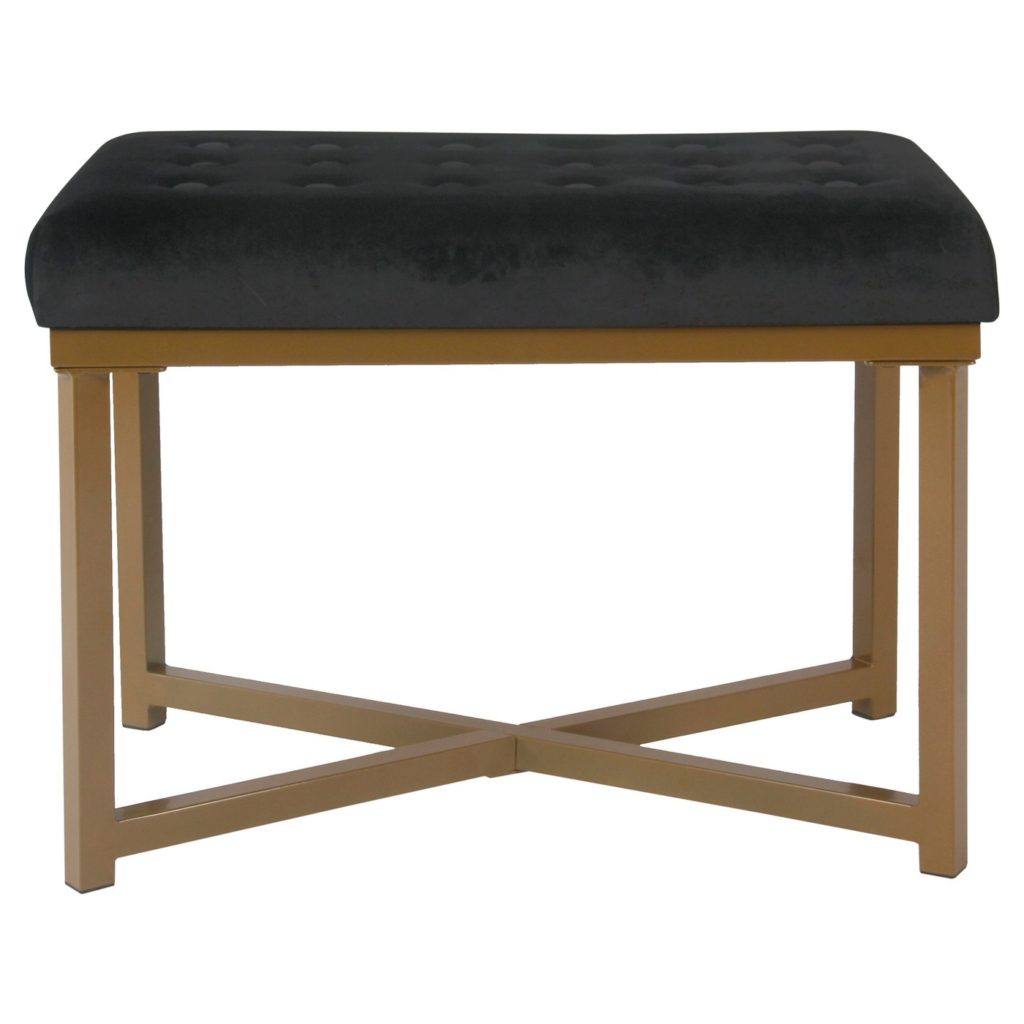 3) I looooove these velvet pumpkins for fall! They are available in a ton of colors and several sizes and will work well in any of your fall vignettes. P.S. The photos in this Etsy store make shopping easy and fun, so I had to use more than one pic because I could not choose!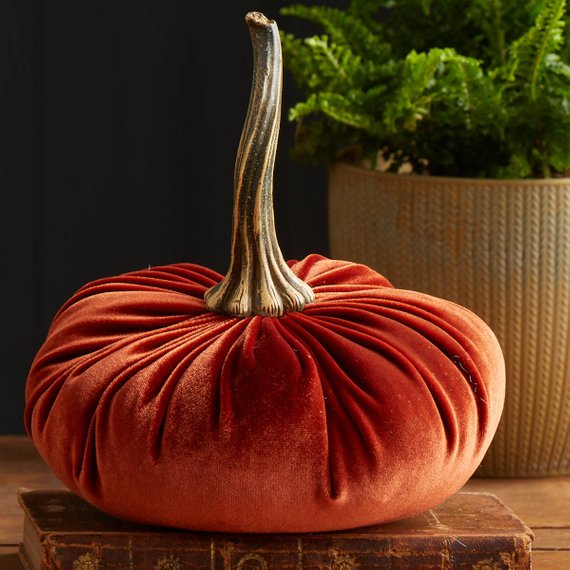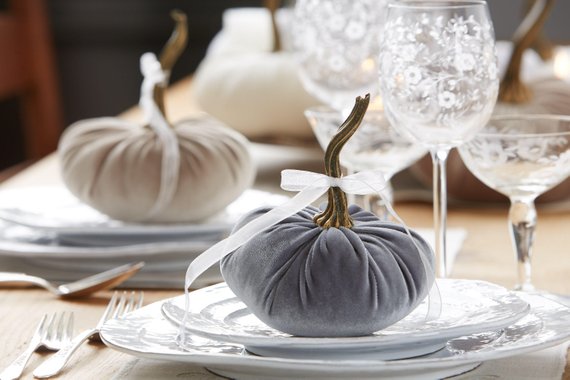 So whatever Fall trend (or trends) you choose to implement in your home this season, I hope these budget friendly picks will help inspire you to try something new.
Best,
Kelly