This is the first blog post since we officially launched the new logo for Sara Langley and celebrated with a photo shoot and some delicious cookies! I cannot thank everyone enough for their kind words and support. I am so excited to move forward with new branding, new projects and hopefully a new home office on the horizon!
I have been thinking more and more about the recent necessary evolution of the home office…yes, these are the things I ponder whilst trying to distract myself from the insanity that is 2020. The need and function for designated rooms change and evolve with the times; think present day kitchens as showpieces of the home, rather than tucked away as they once were. Even now the dining room is often relegated to becoming an office, as the formality of having a separate room may not suit us. So here we are as we churn through the pandemic, searching for a space in our home to best suit our need to complete assignments and work related tasks. Enter the home office…the place where papers go to die, un-filed but stacked in a corner with the greatest of intention. Often alongside the kids' art projects to organize, packages that need to be returned…oh wait, maybe that's just me?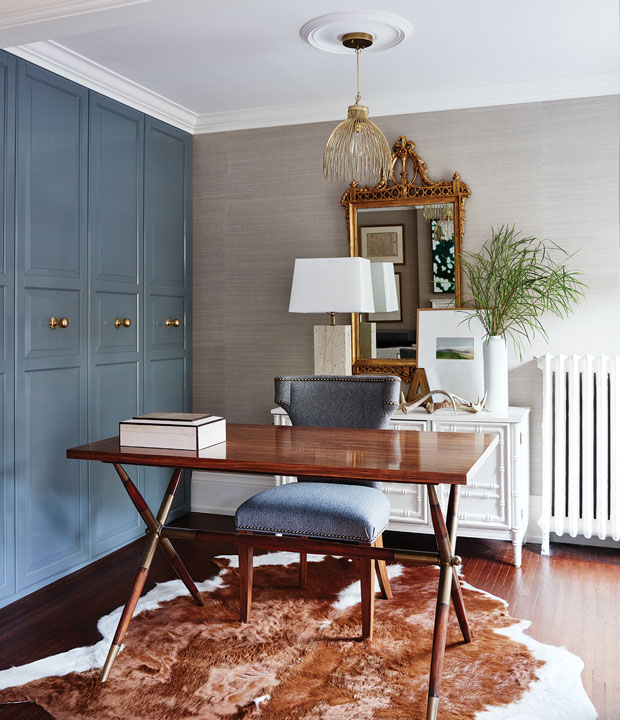 Today I want to share with you some inspiration if you are feeling the need to revamp your home office to better suit your needs and goals. It is one of thee most requested spaces we are helping clients with lately. As we are all inevitably at home more often, whether you are officially working from home or not, the desire to carve out a space for job related tasks has never been greater.
The best approach to redesigning an existing home office with greater functionality in mind (or to carve out space when one doesn't yet exist) is to first consider what you need that space to accomplish. For example, I need two people to work in the same space and one needs a large area to spread out, the other mostly works on the computer. Or I need space for one person to work full-time, the other part-time and both need access to separate computer areas. Or I need space for my kids to do remote learning and art….don't even get me started about the remote gym classes we have at our house…you are on your own there.;)
Let's start with the layout…
Layout is critical in any space, even if you are creating an office in a closet.. literally. Start by evaluating wall space. Do you need space to organize vertically, such as shelf space, pinboards, whiteboards or calendars? Then there is the horizontal space consideration. Do you need to read large scale drawings, have multiple papers spread out at one time, or are you simply in need of space for a computer? Once you have all the functional aspects of your office needs considered, you can decide how the pieces of the puzzle come together.
Here is some inspiration for creating linear space along a wall, either with open upper shelving, cabinetry, or a combination thereof:
Another option is to set up a corner desk, which is ideal in smaller spaces as well: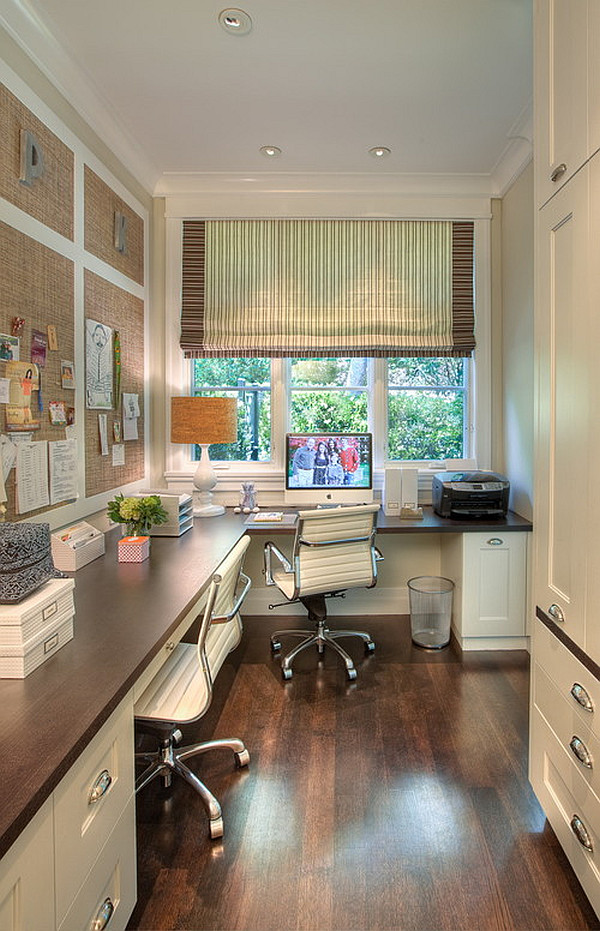 An additional option is the T-shaped desk which works really well when multiple users need to be working in the same area at the same time..often paired with headphones. Here are some beautiful home offices utilizing this layout: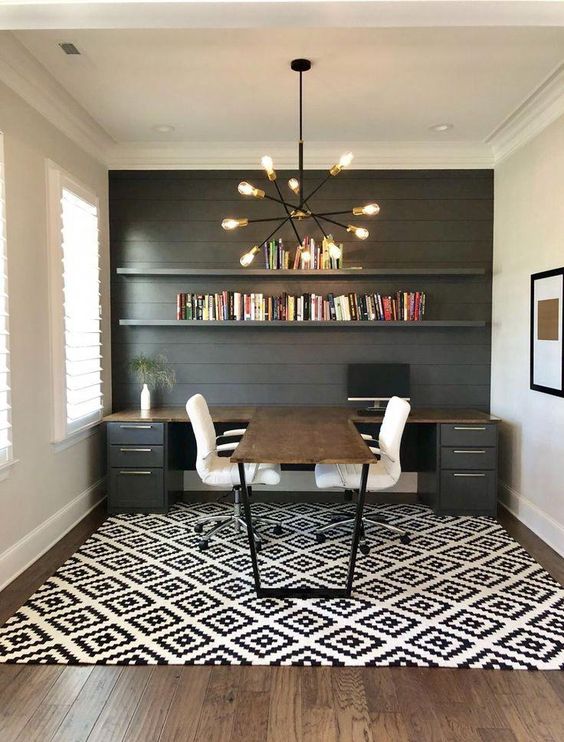 Carving out workspace…
You may be in the situation where you are trying to find peace anywhere carve out office space somewhere within the existing square footage of your home. Utilizing a former closet space is a long standing solution wherein, should you elect to retain the doors, keeps all those aforementioned piles of paper out of view. Should you eliminate the doors, there are plenty of creative storage solutions to ensure everything has a place and stays organized. Here are some of my favorite office designs created from former closet spaces: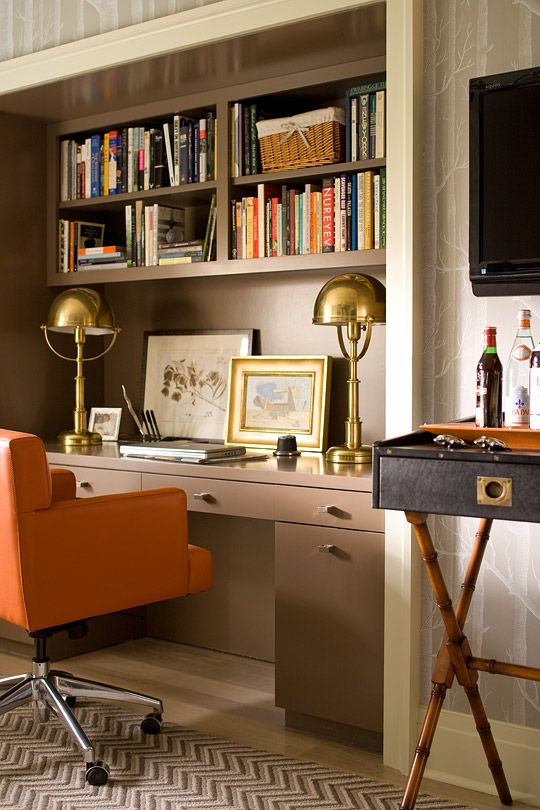 If you just need a laptop, curling up in an oversized chair sounds good to me, I have saved this image for future inspiration:
xo,
Kelly