Hi All! So it's been a hot minute since I have been here! Holy guacamole time flies! I have been meaning to write a quick post about Benjamin Moore's Color of the Year, Metropolitan (AF-690), since it was released last month.  One of my fav color combos is gray and navy because it is soooo easy to add pops of color to that combo to make the room feel fresh, without doing a complete overhaul. Benjamin Moore's Hale Navy is one of my go to navy paint choices, and it looks fabulous paired with the company's color of the year.   As you may know, the struggle is real to find that perfect gray that will work with various lighting in a room, but Metropolitan is a gorg gray that hits the mark.
Here is a design board I put together with some of my favorite pieces: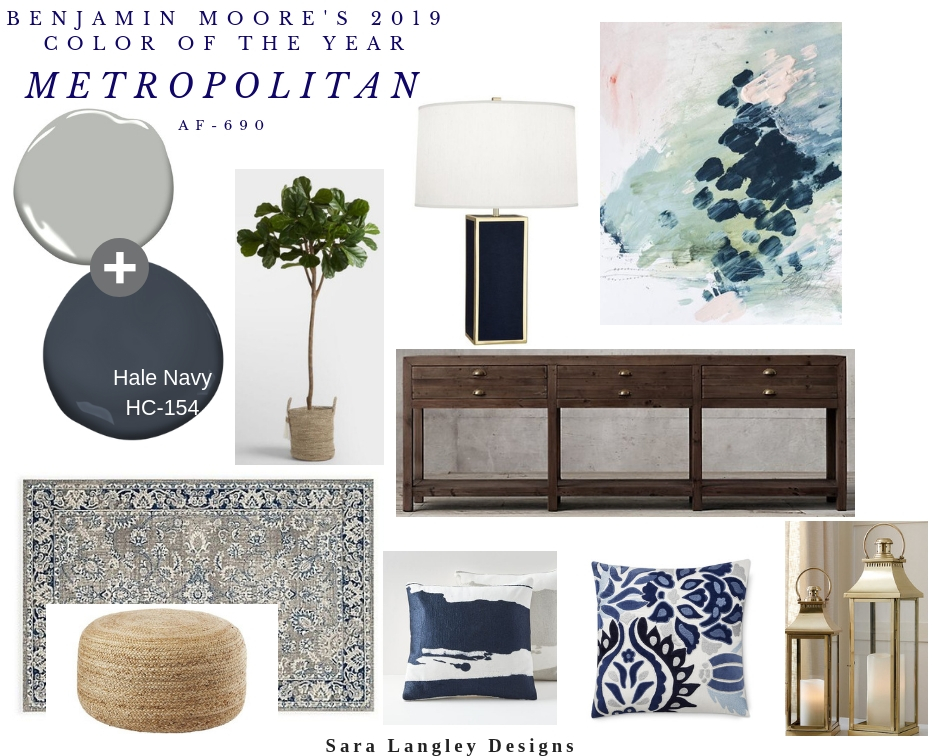 Lamp | Art | Rug | Pouf | Console | Pillows Left/  Right | Lanterns | Faux Tree
Ok, so here we are in the last quarter of 2018.  After getting a podcast kick in the pants from the likes of Tony Robbins and Rachel Hollis, I finally set goals for myself with the blog.  Guys, I LOVE writing and of course all.things.design.  So I am going to set out a schedule for the days I will be writing so that there is 1) consistency- hello! ; and 2) so you will know what days to grab a coffee and join me. Lots of new projects and endeavors on the horizon for 2019, and I cannot wait to share them with you!
Best,
Kelly
P.S. I have been obsessed with podcasts for some time now because while driving to and fro to complete the million errands that need to happen everyday, I can be learning something new! My current top five podcast favs are as follows, in no particular order- Enjoy!